Expeditions Experiences
For two decades, Summit's one-of-a-kind Expeditions experience has created the opportunities and space for our students to be exposed to, explore, and pursue their interests. Like all good things, Expeditions has room for improvement. With this in mind, for the last two years, our educators and leaders have been working thoughtfully and collaboratively to update and upgrade our Expeditions program so that it can realize its full potential.
We're grateful for the partnership and expansive input from families and students through this design process. From surveys, to interviews and reviews along the way – collaboration guided our work to improve Expeditions experiences by providing more opportunities and choices for every student, every year.
The future of Expeditions
We're thrilled to announce that beginning fall 2022, all Summit students, both middle and high school, will have access to an updated Expeditions experience. We're excited to begin to introduce the Expeditions experience to all students and families by sharing with you the first set of new opportunities, giving you a chance to choose an experience, and, if what you are looking for isn't included, working to create it.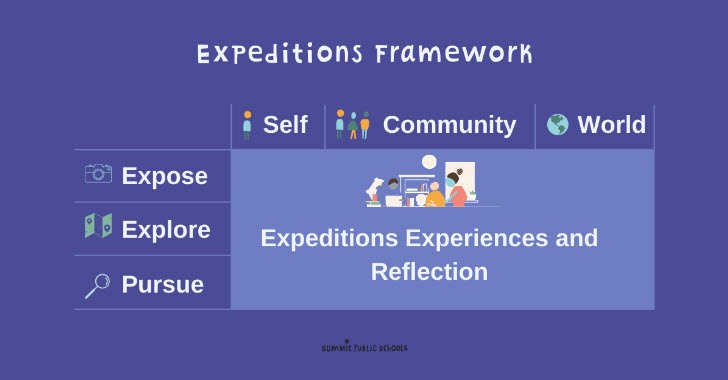 Choosing Your Best Fit Experience
There are three helpful things to consider when looking for a right fit Expeditions Experience:
Interesting Topics: What interests and intrigues you? What do you want to explore?
Real-Life Outcomes: Do you want something tangible and practical from your learning like college credit or an industry-recognized certificate? Do you want to try a specific area of study or work to figure out if that is a path you want to pursue? Are you following your curiosity?
Format: What do you know about yourself as a learner? What spaces, places, and paces work best for you? What keeps you engaged and motivated?
Expeditions Experience Types
At the start of school year 2022-2023, we will begin to offer the following experience types:
virtual offerings in partnership with five incredible organizations
in our school classrooms with a Summit teacher
in our school led by other students
in our school or a local organization with a community partner (including career explorations with local professionals)
a self-designed experience that you propose and get approved by the Dean of Expeditions at your school
View our latest communications for more information:
Excited? Curious? Have ideas? Need ideas? Connect with the Dean of Expeditions at your Summit school for more!