Laura Ochoa
Spanish at Summit Tahoma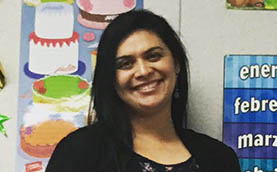 Why do you teach?
I teach because I realized how privileged I've been because of previous teachers in my own life. I come from an immigrant family and we didn't know how to navigate the educational system. I was really lucky to have really inspirational teachers who believed in me so much. They made me believe that I could go to college and I want to give that back to other students. I want students to see their beauty, power, and potential.
Why do you teach this subject (Spanish)?
I fell in love with Spanish when I first started teaching it in high school. I wanted to teach languages. Once I started teaching it I realized how fun it was to share my culture and traditions, not just a language. Spanish is part of me and my family.
What makes teaching at Summit different from other teaching experiences?
I love [Summit] because it is such a community. It is small. I know my students and they know me. I feel like there's enough for me to keep track and build relationships and you cannot do that at bigger schools… We have support from leaders, to be a really good teacher. Other places the leaders may not be available. Here they know you and want to make you better.
What has been your best moment as a teacher?
I did a lot of thinking about this question. There are a number of great moments, but my best moment is always graduation. I was a part of that. Maybe just a couple years, but I helped them get there. It allows me to see that I am part of something greater. That moment of "Yes, it's possible." It's why I do what I do.
Talk to us about your mentor group. How has mentoring changed your teaching experience?
I love my mentees. I feel a little like a mom. I have 25 kids. I was scared when they first told me I'd be a mentor. I didn't know what that meant because I had never mentored anyone, but I've grown so close to these students. We feel like a family. They all have different personalities but they're all friends. It's been cool to see them grow and mature. I feel more responsibility for this group, like these are my children and I've got to get them through high school. It can also be challenging; they definitely keep me on my toes. I even learned about "dabbing" because of my mentees.
How does Summit support you as a whole person?
This community is like my second home. It challenges me to be better. I have a coach, Mr. Stewart. He allows me to grow as a teacher because I'm being mentored on how to be better. I get to collaborate with my colleagues and there are lots of opportunities. I'm taking a group of 11th graders to an underdeveloped country for a service learning project through the Global Glimpse program.
What parts of your identity have been most salient to you as a teacher? How have these pieces of yourself helped you to connect further with your students?
I'm Mexican, and it's been great because I can share my culture with my students. Specifically, in San Jose there's a large population of Latino students. I like being a role model. I never had that when I was a student. I've made a connection or been able to joke with students about food or holidays. That's how I build relationships with them. I feel like they identify with me because they see I'm Mexican, and many of them are Mexican too. It gives them hope of accomplishing their own goals. I never had a Latino teacher so could never identify. I never saw myself like that in my teachers. I never had that as a role model. When you have that at school, you can see yourself in someone else.
What would you tell a potential teacher interested in Summit?
I would say you'll fall in love with your students and mentees. It'll be challenging at times and can be an emotional journey. You learn about their personal lives and what's going on at home but it is so rewarding and so worth it. You will work more and invest a lot but you'll learn to love it.
What's been your biggest challenge as your teacher?
There are always challenges as a teacher. Especially today, learning about what teens struggle with, but there's nothing that I can't handle. Currently, I'm working with one student impacted by suicide. It's a new area for me to address, but there's so much support and so many resources.
Where do you see yourself long-term?
I want to continue to be a teacher. Maybe even part of a school leadership, team like a principal. I was just given the opportunity to be a resident coach and mentor new teachers at Summit, which would be an awesome opportunity. I know I want to continue to be in the classroom because this is where my heart is.