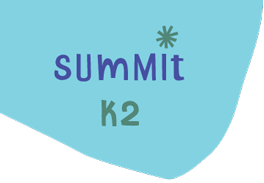 College. Career. Life.
Welcome to Summit K2, a free, public middle and high school serving students in El Cerrito/Richmond.
Why Summit?
Real-World Experiences and Projects. Students develop life skills like collaboration, communication and problem solving needed to succeed after graduation.
Self-Direction. Students set goals and plan, work at their own pace and discover how they best learn.
Small, Safe, and Diverse Community. Every student is cared for and known.
Mentoring. Every student has a teacher who mentors them and checks in with them every week.
College-Prep Curriculum. 98% of graduates are accepted into at least one 4-year college.
Virtual School Ready. Uninterrupted learning while maintaining high expectations as school moved to virtual classrooms.
Sign up to learn more!
Enrolling now for grades 7-12!
1:1 Mentoring
Mentors support students academically and socially, and help them build key skills needed in college and life.
Real-World Projects
Students deepen their knowledge through meaningful projects that combine content with real-world skills.
Self-Directed Learning
Students learn to set goals, develop strategies to reach them, and reflect on how their plan worked.
Small, Diverse Learning Community
Each and every student in our tight-knit community is known, cared for, and valued.