What should I expect as a teacher?
---
What are Summit schools like?
We are 15 schools in California and Washington state, serving an incredibly diverse population of over 4,500 students from all different backgrounds.
From the beginning, Summit schools have been diverse by design. We recognize that kids do better in diverse environments. Our students work together and collaborate, and everyone is held to the same high expectations; this helps our students form community and belonging.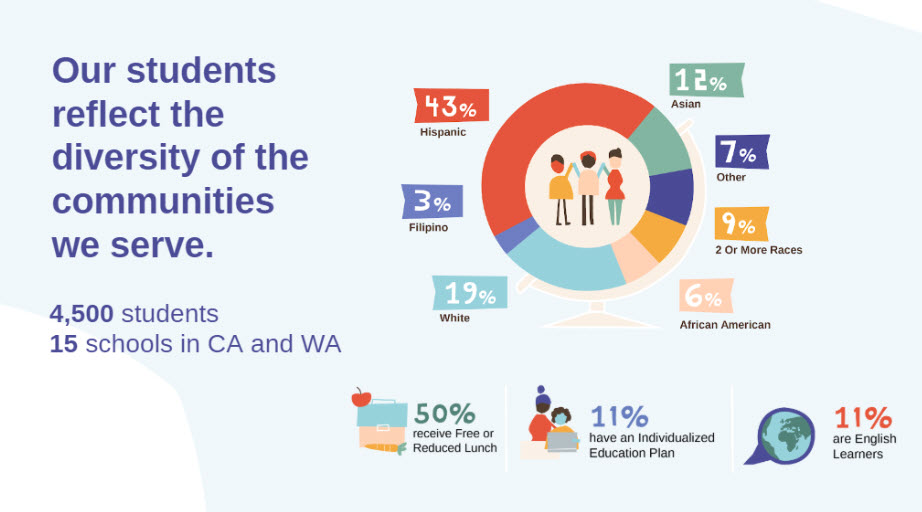 ---
What is Summit Learning?
Summit Learning is our approach to teaching and learning and the foundation of Summit Public Schools' 15 years of success. This instructional approach is based on collaborations with nationally-acclaimed learning scientists, researchers, and academics from higher-education institutions, including the Harvard Center for Education Policy Research, the Learning Policy Institute, and the Carnegie Foundation for the Advancement of Teaching, among others.
Every element of Summit Learning is grounded in what science tells us about how students learn best— from our student outcomes to the design choices we made in order to achieve those outcomes.
In order to fulfill our vision for students, the Summit Public Schools approach to teaching and learning is based on developing four key student outcomes: Cognitive Skills, Content Knowledge, Habits of Success, and Concrete Next Step.
If you're interested in learning more about the research that underpins the Summit Learning approach, we encourage you to learn more about the Summit experience.