Health & Safety Information
Spanish Translation
  | 
Somali Translation (PDF)
Health & Safety Information
As we enter the new school year and welcome our young people and educators back into our buildings, we have updated our health and safety procedures to reflect the current COVID-19 environment.
When the pandemic entered our lives in the Spring of 2020, Summit committed to make decisions in the best interest of our students and the safety of our community. Since that time, we have consistently made decisions following guidance from state and local departments of public health. We have taken the same approach in designing our policies and practices for the start of 2022-23 School Year. We are optimistic about moving from pandemic to endemic and at the same time we remain ever vigilant in maintaining standards for health and safety.
A safe return to school
Below, we have outlined the key information you need to know as you and your student prepare for a return to school in August.
Masks. Consistent with state and local mandates, all students and faculty are strongly recommended to wear face coverings at all times while indoors at the school site, except when they are eating or drinking. Both the California Department of Public Health and the Washington Department of Public Health advise that masks are among the most effective tools to prevent transmission of COVID-19 and support in-person instruction in K-12 schools.
Testing. Given recent changes to our community context and the availability of testing sites, as well as newly released testing resources from the Department of Health, Summit will be implementing a test at home program, consistent with other schools across both states. All necessary supplies will be available at school for families to pick up as needed. There will not be a regular screening testing program at school.

Summit Public Schools COVID Testing Framework
All CA Summit Public Schools campuses have adopted the CDPH Testing Framework for the 2022-23 school year to support safe in-person learning, as disease management is an essential priority to maintain student well-being and development. For more information on the COVID testing resources available to your student, please reach out to the Dean of Operations at your Summit school.

If You're Sick, Stay Home. Each and every person in our school community will play a vital role in helping to reduce transmission risk at school. Therefore, we need every student and family to carefully monitor their own health and their student's health. We ask that students stay home when exhibiting any of the symptoms of COVID-19.
Keep in mind that our health and safety protocols will remain subject to change based on, among other things, guidance from state and local departments of public health. We expect additional updates to follow during the course of the year and commit to communicating with you about these in a timely manner.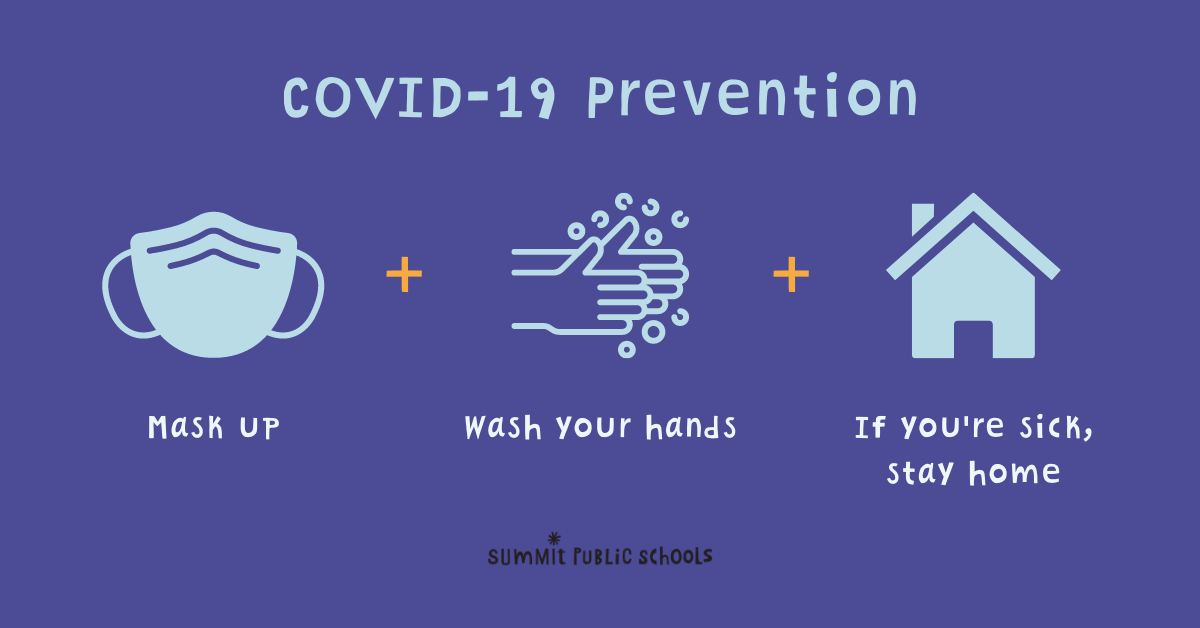 More Details
For additional information, please look to our Health and Safety Family Guide for School Year 2022-23: