Davida Lopez
Middle School Math at Summit K2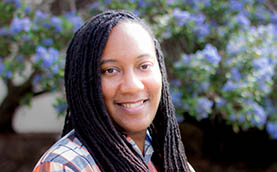 Tell me about yourself and why you became a teacher.
I've done all different kinds of jobs to figure out what I wanted to do. When I was in college, I worked at a sports camp after my freshman year and it was the first time I'd worked with kids. Though I was very soft-spoken and shy, working at the camp became one of my best experiences and I came back every summer.
That experience led me to study sports management in school. When I couldn't find a job in that field, I came back to working with kids at a youth wilderness camp. That job helped me develop into everything I am, and I learned all kinds of educational techniques. I still didn't go into teaching after that and veered towards law enforcement.
At that point, I felt like I was wasting my time – I wasn't working with kids and I wanted to get into the classroom. I started looking up opportunities for lateral entry as an alternate route to get into teaching and joined the New Teacher Project in Charlotte, NC. After two years there, I moved to Urban Promise Academy in Oakland, CA, and that's where I first came across Summit Public Schools.
Now I teach at Summit K2, and I teach because I'm happiest working with students.
What makes teaching at Summit different from other teaching experiences?
Summit is more personalized, and I like that. I had already started trying similar things in my previous classrooms, like small-group work, project-based learning, and one-on-one support, and I saw how much a personalized model engaged students. At Summit, I'm now able to better support students who are at all levels in math, whether they're doing well or struggling.
What has been your best moment as a teacher?
Can I say my entire year at Summit? I came to Summit in my fifth year of teaching and it's been the best year I've had, out of all my previous years.
Talk to us about your mentor group. Do you have any highlights you'd like to share?
I had a group of middle school students with an interest in doing a Black History program. They wanted to go around to classrooms and do something related to Black History every week. The students started visiting mentor time on Mondays and gave different facts.
One week, during my mentor group, students wanted to chime in on the facts shared that week. Students started asking each other questions and spurred a whole conversation about black history, ethnicity, everything — it lasted the entire period. That was a definite highlight this year.
How does Summit support you as a whole person?
Summit asks you to share your career aspirations and shares pathways of getting there. I'm able to see leadership roles I could have and know there's opportunity for me to grow. No other school has sent a message like that.
What parts of your identity have been most salient to you as a teacher? How have these pieces of yourself helped you to connect further with your students?
Being African-American, that conversation my mentor group had during Black History Month wouldn't have happened if I were any other race. I don't think my students would have been comfortable being so open. With the school's diverse population, my identity has helped them connect more with me. They have that sense of trust and know I'm somebody to confide in. It's allowed me to build greater trust and stronger relationships with my students.
What would you tell a potential teacher interested in Summit?
This is the most laid-out program you'll ever see. Lesson plans, curriculum – everything is available to you. If you're into technology and discovery, Summit is like education on a platter: you can edit and blend learning in a way that makes sense for you and your students.