Chelsea Watts
AP English Lit at Summit Shasta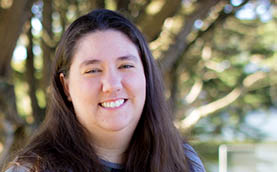 Tell me about yourself and why you teach.
Education was my way out of generational poverty. As a first generation college student, I made more money straight out of college than my parents had in their lives. School was the safest, most reliable part of my life when I was growing up and I recognize that this is a reality for many kids today. I genuinely believe that without the teachers that I had watching over me, I wouldn't be here today. I want to provide that safe place for my students.
I was a middle school teacher for eight years before joining Summit, and loved teaching those grade levels. Though I wasn't 100% into teaching high school at the beginning, I found Summit's vision powerful and the change to high school felt right. In middle school, I could see the beginnings of what students could be but didn't get to see them come fully into themselves. By teaching high school, I get to see students know who they are before they go out into the world to do amazing things.
What makes teaching at Summit different from other teaching experiences?
Mentoring, first and foremost. In my past teaching, I've never had the time nor the structures in place for successful character-building or mentoring groups.
Expectations here are also different, both from the perspective of a student and from a teacher – those expectations are very high and I don't think we've figured out how to meet that bar all the time. The simple fact that at Summit, we're driving towards meeting that bar felt new and exciting and different. I love that Summit isn't rooted in any kind of old-school education tradition, "this is the way it's always been done" kind of thinking – Summit is rooted in what's going to be best for the students we have in front of us and how we leverage the skills they have.
Talk to us about your mentor group. How has mentoring changed your teaching experience?
Mentoring is, hands-down, the best part of my job. When I began teaching at Summit, I started with a mentor group of freshmen – a couple of my mentees were kids I'd taught in middle school. Though I'd had students in advisory groups at my previous school, the hours I can now dedicate to my mentor group have really changed the types of relationships I could build.
My mentor group is an incredibly diverse group of 10th graders, from life experiences to ethnicity to academic ability to their personal interests. They all care deeply about each other and that's wild to me – this is a group of people who would never come together in any other scenario and there are the expectation and resources to foster these connections.
What has been your best moment as a teacher?
One of my mentees, who has an unstable home and who I'm always chasing around school, recently spoke with another teacher and said that I "really took the time to get to know him" as a person and that I made him feel safe. At the moment, it didn't matter that he's behind on his studies – what mattered is that he could come to school and have someone who looked out for him.
Where do you see yourself long-term?
Though I'm eventually interested in supporting new teachers – I'm mentoring a resident from the Summit Learning Teacher Residency program this year and hope to continue supporting that program – I want to be in the classroom with students. That's what I got into teaching for.
What parts of your identity have been most salient to you as a teacher? How have these pieces of yourself helped you to connect further with your students?
My coming from an economically disadvantaged background has helped me connect with some of my students at Shasta. Having that experience as a teacher and knowing that there are other things happening outside of school puts things into perspective.
What's been your biggest challenge as your teacher?
My biggest challenge is also my greatest joy – I love the mentorship aspect of Summit, so much. If I could spend all day every day with my mentees, I'd be the happiest person. It's amazing to have structures and training built into Summit to support me, as a mentor, to build those mentee relationships.
What's challenging is seeing my mentees and recognize when they're having a rough time or are in pain or have things we can't fix because those things are outside of our control. Though I'm challenged by this every single day, I wouldn't change it in any single way.
What would you tell a potential teacher interested in Summit?
I'd tell a potential teacher to be prepared to be excited and frustrated and filled with joy and challenged every single day.