Three Summit Public Schools Seniors Recognized for Extraordinary Level of Volunteerism in Redwood City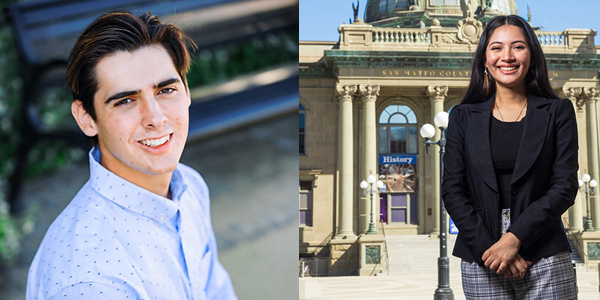 Summit Everest Senior Earns Additional Honor as a Sequoia Awards Outstanding Student
Summit Public School seniors Itzel Ramos Valverde, Asher Becker, and Emilio Barajas-Navarrete were each honored with a Sequoia Award, a scholarship presented to high school seniors from the greater Redwood City area who demonstrate an extraordinary level of volunteerism and community engagement.
The three Summit students are among 24 recognized with a Sequoia Award this year. Each student will receive a scholarship of at least $6,000. For the first time in its 31-year history, The Sequoia Awards awarded five students its prestigious Outstanding Student Award.
"This was an unusual year to say the least," said Sequoia Awards Board Chair Ellen Haas. "These students managed to find a way to make a significant positive impact on our community through volunteerism during a pandemic when the need for their service was never more critical, and the challenges of volunteering were never greater."
Ramos Valverde was among those honored with the most prestigious Outstanding Student Award, carrying a scholarship of $16,000 per student. Originally from Sinaloa, Mexico, Ramos Valverde immigrated to the United States at 8 years old. While she didn't always imagine college to be in her future, her human rights in contemporary U.S. society class at Summit Everest gave her a clear vision for utilizing higher education as a tool to impact her community.
"That was the moment I realized what I wanted to do. I want to work with public policy or something to do with social justice," Ramos Valverde said. Ramos Valverde quickly turned her inspiration to action, founding the Human Rights Club at her high school and volunteering in her community. "I started volunteering at Project Read sophomore year and am still volunteering there today. I have drop-in hours for students—it's meant to decrease illiteracy in underserved communities," Ramos Valverde said. "I'm really passionate about educational equity."
In addition to Project Read, Ramos Valverde has volunteered with the Healthy Living Ambassadors Program teaching young students about health and gardening and at the YMCA's Camp Campbell supporting youth in confidence building. As a contributor to First-Gen Support, a student-run information hub, Ramos Valverde works to break down barriers for first-generation, low income, and immigrant students. Next year, Ramos Valverde will attend Claremont McKenna College as a QuestBridge Scholar. She plans to double major in public policy and biology with the goal of creating a positive impact in either the education or healthcare field.
Asher Becker, who was also recognized, is the third in his family to attend Summit Prep. He has been inspired by his parents and siblings to carry on a legacy of volunteer work. For seven years, he has volunteered with 4-H. "The past two years I've been the Officer for Civic and Community Engagement," Becker said. "Through that I was able to lead our club through different activities, like making care kits for homeless populations and connecting our club to the community." This year, Becker has also taken his volunteer work virtual, hosting English classes on Zoom for refugees.
In the fall, Becker will study engineering at California Polytechnic State University-San Luis Obispo. He looks forward to finding ways to use his passion for mechanical engineering to impact underserved communities. "My sister was an agricultural major," Becker said, "and she was able to use the knowledge she learned in her classes to help build an aquaponics farm. That really inspired me to look for those kinds of opportunities when I'm at Cal Poly. I want to use the knowledge I learn in class to volunteer."
Summit Everest and Summit Prep are free, public high schools in Redwood City, California. All Summit Public Schools prepare a diverse student population for success in a four-year college and to be thoughtful, contributing members of society.