Summit Shasta Senior Receives Posse Foundation Scholarship Award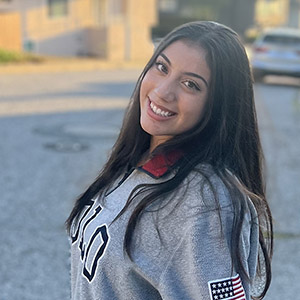 Amid grief and loss, Tiffany Alfaro discovers her passion, clinches prestigious award—with a little help from her mentor
Tiffany Alfaro always wanted to attend college but wasn't sure how she would get there. The Summit Shasta senior is a first-generation daughter of Central American immigrant parents, who knew it would be a challenge to navigate college applications and financial aid. This year, Tiffany is one of 10 students—out of over 500 applicants in the Bay Area—selected to receive the Posse Foundation scholarship award. She will use the scholarship award to attend the University of Puget Sound in Washington this fall.
When she began her Summit journey at Shasta, she struggled and was unsure of herself. "I had a pretty negative outlook," she recalls. While she was immediately drawn to the small, intimate environment, she was unsure about the mentor program. "At Summit, there's such a sense of unity, it feels really personal. That's really what I needed during that time but it was hard to be vulnerable and to trust," she reflected.
When Tiffany was 9 years old, her older brother passed away. She was still grieving and processing the loss when she started at Shasta. Her mentor, Ms. WuRohe—who nominated Tiffany for the Posse award—changed the way she viewed mentorship and challenged her to start setting goals and exploring her interests outside of school. She says her compassion and consistent support led her to start believing in herself and thinking about her future.
"From the first time I met Tiffany as a sophomore, I could tell that she was an insightful leader who would accomplish amazing things with the right support. She is wise beyond her years, and she has a way of making the people around her feel seen and heard," said Ms. WuRohe. "Tiffany is someone that other people want to follow; she knows herself and is able to be honest about both her strengths and her areas for growth," continued Ms. WuRohe. "I am so proud of her—she has already been through more than many people will have to face in their entire lives, and she has come through it all with grace and grit. I feel honored to have had the opportunity to play a role in her journey."
Tiffany knew she wanted to pursue volunteer work and became involved in Mercy Worldwide, a faith-based charitable organization that raises money for children in third-world countries. She also landed an internship at San Mateo Outdoor Education, where she became a cabin leader and oversaw their safety program. She discovered her passion for helping kids learn about responsibility and personal safety. Now a mentor herself, Tiffany applies the same approach to mentoring as Ms. WuRohe when working with the kids at the Outdoor Education Center. "Ms. WuRohe really kept it real and pushed me to expect greatness of myself," said Tiffany. "I try to apply that same approach to the kids I mentor. I want them to trust me."
During the pandemic, Tiffany was faced with another tragedy: the unexpected loss of a close friend. She said the consistent support of her mentor and teachers helped her through this challenging time. It also shaped her interest in psychology. "At times, the only thing that gave me an anchor was understanding the science behind my grief, the logic and the why behind how we think," she remarked.
Tiffany plans to study psychology at the University of Puget Sound. Her goal is to form an organization that fuses psychology and spirituality. She envisions a mental health and wellness space that is accessible to people from all backgrounds offering support and resources. Tiffany credits her mentor, Ms. WuRohe and the teachers at Shasta for their deep commitment to student well-being and their consistent support during challenging times. Remarking on the loss of her brother and friend, Tiffany says simply: "they inspire me every day to strive for greatness."
Her advice to rising seniors? "Never compromise your full potential. Seek every opportunity with humility and kindness. Always give it your all!"
Summit Shasta is a high school in Daly City, California. As part of Summit Public Schools, a leading public school system, Shasta prepares a diverse student population for success in a four-year college and to be thoughtful, contributing members of society. Summit Shasta students build habits and life skills with project-based learning by collaborating on real-world challenges. Learn more or enroll your student.