One Senior's Response to COVID-19? Study Government at Harvard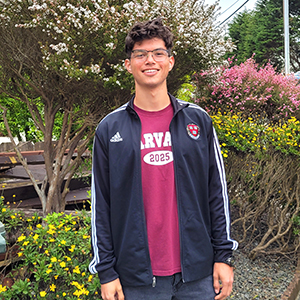 Joseph Hernandez is a graduating senior at Summit Shasta, a free, public high school in Daly City
While many seniors have halted their college plans in response to COVID-19, one local student found inspiration from the crisis. Having witnessed how the pandemic was handled in the United States, Summit Shasta senior Joseph Hernandez set aside his interest in computer science and decided to pursue a degree in government. Now accepted to Harvard with a full-ride scholarship, in a year with the lowest acceptance rate on record, Hernandez's goal is to become an elected official.
Hernandez is a self-proclaimed "typical computer science guy." He grew up with a passion for math and fell in love with a robotics class he took in middle school. With a deep sense of responsibility to his community instilled in him by his parents, he dreamed of finding a way to help people using computer science. When he arrived at Summit Shasta, he was excited to be a self-directed learner, a unique aspect of the Summit model, in order to advance his interest in math at his own accelerated pace.
Wanting to further challenge himself, Hernandez turned to his mentor, Gene Lee, for support in seeking additional math opportunities. At Summit Shasta, all students have a dedicated, one-to-one mentor throughout their high school experience. "Mr. Lee, my mentor, is great. All his mentees will agree. He suggested I try to take community college courses," Hernandez said. "He told me to talk to him about my interests and about how to fit them into my schedule. He also helped with actually signing up for those courses." Soon, Hernandez was concurrently taking classes with Skyline Community College. Now, he is graduating with over 6 high school and college math credits.
What seemed like a clear path for Hernandez started to shift when a representative from The School for Ethics and Global Leadership (SEGL) presented at Summit Shasta. Hernandez was excited to learn about another opportunity to take his education into his own hands, this time through a semester abroad in South Africa. "I went for it, I was excited to explore and had never left the U.S. before. I had barely been out of the state," Hernandez said. With the support and encouragement of his mentor, Hernandez was accepted to the program and headed to Johannesburg during the spring of his junior year. "I don't think I would have been able to do a lot of this at another high school," he said, reflecting on his numerous off campus learning experiences.
Just as Hernandez dove into government and philosophy classes in SEGL, the COVID-19 pandemic swept the globe. "My semester there actually got cut off and we had to go home early. I kind of went 'ok, this is a pandemic, yeah it's going to be bad.' But if we had actually handled it better from the jump it would not have been this bad," Hernandez said. "For a long time I had the perspective that I was passionate about politics but that I could just vote and that would be enough," he said. "As it started affecting my life more I thought, I can't just watch, I need to fix these things myself. My path changed, but either way, my goal has always been to help people with my career. I realized then that personally, government was a better path for me to make an impact."
Hernandez made a major pivot just as college application season began. His commitment to making positive change fueled his drive to get into Harvard early action to study government, and to one day become an elected official. "The whole thing surprises me; I didn't expect to end up here. Harvard wasn't even on my radar because I just thought that's a really, really good school, I'm not going to wind up there," Hernandez said. When he got his acceptance email, he recalled his family's reaction, "My dad screamed loud enough that I think the whole apartment building heard."
Hernandez expressed gratitude towards the Shasta community as well as an intention to pay it forward. "I got this far because of the help I received along the way and I want to make sure other people have that same support." Next year, he plans to volunteer his time to help rising seniors with their college applications. "I want to make sure I leave an impact at Summit."
His advice for future seniors? "Take every opportunity that comes to you and give it your all."
Summit Shasta is a high school in Daly City, California. As part of Summit Public Schools, a leading public school system, Shasta prepares a diverse student population for success in a four-year college and to be thoughtful, contributing members of society. Summit Shasta students build habits and life skills with project-based learning by collaborating on real-world challenges. Learn more or enroll your student.