Meet Summit's Class of 2022: Karla Andrade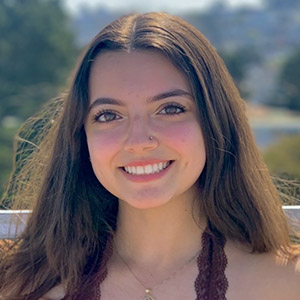 Karla Andrade has dreamed of becoming a veterinarian for as long as she can remember. Having grown up with three dogs, a snake, and turtle, she knew the veterinary world was for her. As a Summit student, she was empowered to nurture her passion for animals and become a leader for women in science. This fall, she will attend California Polytechnic State University, San Luis Obispo with a full scholarship.
Since middle school, Karla knew she wanted to attend Summit Rainier High School, just like her older sister. She felt confident that the small size and one-to-one mentorship would support her to thrive. In her first year, she dove head first into becoming a leader in her school community, founding Tech Challenge, an engineering club in partnership with The Tech Interactive. Karla also became the president of Miss CEO, a club her sister had previously founded in her time at Summit. Miss CEO empowers women in leadership in the STEM field. "Leading that club was really important to me," Karla said. "We'd have women leaders come and speak to us and talk about how they got to where they are and advice that they could give us."
In the middle of Karla's high school journey, she was faced with two major transitions – transferring to Summit Tahoma and beginning Virtual School due to COVID-19. Despite this challenge, Karla stayed focused on her goals. Her mentor and teachers at Summit Tahoma were there every step of the way to support her as she set herself up to pursue a pre-vet track in college.
"I knew I wanted to go into animal science, so I searched for a college that would best fit that. I also knew about a place in San Jose called Mini Cat Town. I sat down with my Expeditions teacher and talked through it, and she encouraged me to give them a call," Karla said. Through Summit Tahoma's unique Expeditions Experience, Karla was able to set up an independent volunteer position to gain hands-on experience at a neonatal kitten rescue organization. "The whole expeditions experience taught me how to reach out to organizations. That helped me out a lot. It's going to benefit me in the future."
As Karla began her college application process, Summit Tahoma offered financial aid meetings in small groups and personalized support through their mentorship program. "Looking back, I feel like that one-on-one support honestly really helped me with my college applications and helped me to be successful in the way that I am right now," she said. "I felt like the whole process was much easier because I went to a Summit school, I was able to talk to my mentor about it and understand how it worked." Then, the acceptances started rolling in. Karla was offered three full scholarships to University of California, Davis, University of California, Santa Clara, and California Polytechnic State University, San Luis Obispo. "It just blew my mind," she said. Karla has selected Cal Poly, San Luis Obispo because of their incredible, hands-on learning opportunities for pre-vet students.
Her advice to future seniors? "Learn how to manage your time, that's really important when it comes to college application deadlines. I had to work at that and it takes practice."
On behalf of Summit Public Schools, congratulations Karla!
Summit Tahoma High School is in San Jose, California. As part of Summit Public Schools, a leading public school system, Summit Tahoma prepares a diverse student population for success in a four-year college and to be thoughtful, contributing members of society. Learn more or enroll your student.