College and Beyond: Summit Everest Celebrates Stanford Bound Francisco Cerda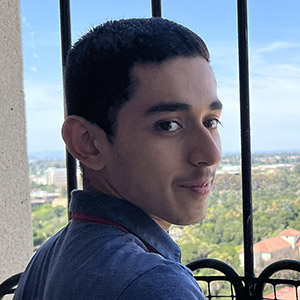 Summit Everest is proud to celebrate senior Francisco Cerda, whose experience at Summit has launched him to continue his academic career at Stanford University next year with a full scholarship. At one of the world's leading research and teaching institutions, Francisco intends to study engineering and pursue his dream of contributing to the aerospace industry–a passion that was cultivated here at Summit.
Francisco grew up with an incredibly supportive family. Born and raised in Redwood City, giving back to the community is a family affair. Alongside his grandfather, Francisco volunteers at St. Vincent De Paul (SVDP) to distribute food and clothes, while also visiting neighboring low-income communities to lend a helping hand. It's a core pillar that was reflected throughout his experience at Summit Everest: to always treat others with respect.
At Summit, Francisco felt an acceptance that he hadn't previously experienced at school. "I was shy in middle school," Francisco explained, "so when I got to Everest, I didn't know anyone. But the Summit community accepted me for who I am."
To Francisco's teachers at Summit, there was never doubt that he is a truly gifted student. Early on, Francisco recalls his mentors, Mr. Damon and Ms. Castro, relaying to his parents that he showed incredible promise during their very first meeting. "Hearing that I had 'potential' from my mentor really motivated me," Francisco said.
Francisco credits that feeling of being believed in—of feeling known—to meaningful relationships with his teachers. "I was much more self-directed at Summit, and I could advance at my own pace," Francisco said. "It's a smaller school than my middle school, and I really appreciated the connections I could make with my teachers."
While he excelled academically, the college application process proved to be stressful. This was in large part because he would be the first in his family to attend college. "My senior mentor, Ms. Buller, really helped me navigate the FAFSA scholarships and the college process in general," Francisco recalls. This guidance paid off.
When it came to deciding where to apply, his mother was adamant about Stanford University. Like so many, she had heard about their stellar reputation. Francisco told her to "be realistic." But it wasn't only the reputation. After immigrating from Mexico, his mother knew that Stanford could open the door to infinite opportunities. After being accepted to Stanford with a full ride, Francisco is looking forward to continuing his education in another tight knit educational community.
What's next? His dream job is to design rockets. Francisco's confidence to aim high was bostered during his freshman year at Summit when he took an entrepreneurship class, which was offered through Summit's unique Expeditions Experiences. The class was tasked with launching their own business, and Francisco and his teammates devised a plan to improve the mass transit systems in their city. "We outlined the logistics and economics of our solution to determine whether or not it could realistically be implemented on a large scale," explained Francisco. "It was this experience that directed my passion for improving our current transportation systems."
Then, in early 2021 Francisco saw a video of a SpaceX rocket launching on its own. He lights up describing that, "it was like it was out of a movie." He said, "It's when I knew that I wanted to pursue aerospace because it's the potential of our future. I've learned that since we can't stay on this one planet forever, you have to take advantage of opportunity." Francisco is doing just that.
His advice to future Summit seniors? "Never put off until tomorrow what can be done today." Thank you, Francisco! We can't wait to see where you soar next!
Summit Everest is a free, public high school in Redwood City, California. All Summit Public Schools prepare a diverse student population for success in a four-year college and to be thoughtful, contributing members of society. To learn more, or enroll, visit https://summitps.org/.