A Legacy of Volunteering: Summit Prep Celebrates Sequoia Award Winner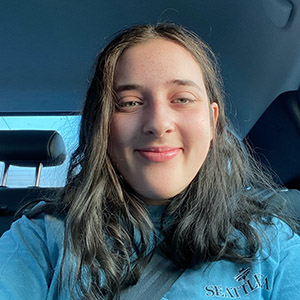 Summit Preparatory High School is proud to celebrate senior Shira Futornick, one of this year's Sequoia Award winners. Each year, The Sequoia Awards presents scholarships to high school seniors from the greater Redwood City area who demonstrate an extraordinary level of volunteerism and community engagement. Summit Prep is proud to have a legacy of Sequoia Award recipients, including Class of 2021's Asher Becker.
Shira Futornick grew up with a strong focus on community service, volunteering alongside her family. Since the seventh grade, she has clocked over 500 hours at Bay Area Friendship Circle, just one of the organizations she volunteers with. As a Friendship Circle Buddy, she has fostered inclusion and friendship for children and teens with special needs, becoming a leader in weekly programs and extended summer and winter camp experiences.
By the time she was a freshman, Shira volunteered for the Jewish Teen Foundation, sitting on a board of 25 teen leaders. There, she made a tangible impact towards accessible housing and education in the Bay Area. As a board member, Shira raised funds and reviewed applications to provide a grant for a mission-aligned project. "As a freshman, I didn't have a lot of confidence," Shira said. "Learning about how to work together as a group and come together with consensus taught me so much."
She didn't stop there. In her sophomore year, Shira advanced her passion for volunteering though Summit Prep's Expeditions program, a unique opportunity that supported her to create her own offsite internship. As an intern with LifeMoves, Shira realized her passion to impact solutions to homelessness and public health. When COVID-19 hit and everything was interrupted, Shira credits her Summit Prep menor, Ms. Lanham, for helping her continue to push forward. "She motivated me to stay involved and keep seeing opportunities for myself," Shira said. "She wanted each of us to have something that brought us joy in our lives."
Through her extensive community engagement experience and support from Summit Prep, Shira grew her confidence, creativity, and problem solving skills. "I was able to do things at my own pace and found there was more time to build relationships with teachers. I could tell the teachers wanted us to succeed, and appreciated that students were cared about as individuals."
Her advice for other high school students? "Even if something feels like it's not going to happen or you don't know if you're good enough, just do it anyway. The worst thing that happens is that someone says no."
After graduation, Shira plans to attend Bates College in Maine. There, she will study neuroscience on a pre-med track, with a minor in math. Congratulations on your amazing accomplishments, Shira!
Summit Prep is a free, public high school in Redwood City, California. All Summit Public Schools prepare a diverse student population for success in a four-year college and to be thoughtful, contributing members of society.