Meet Isabel Pamintuan
Summit Prep Class of 2017
Freshman at Mills College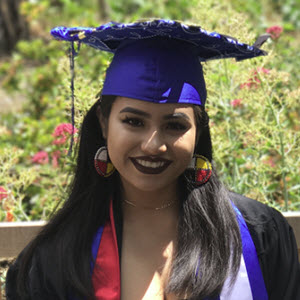 Isabel Pamintuan has a lot to look forward to – the Mills College freshman plans to get a Bachelor's of Science in Nursing, a Master's in Education, and eventually become a doctor. She plans to work as a health educator as well as a cardiothoracic surgeon who opens up and runs clinics on Native American reservations.
"I always knew I wanted to be in medicine. I was that little kid on the playground who gave out band aids to my friends and classmates," Isabel said.
Isabel is particularly interested in helping nurses and surgeons develop their interpersonal skills. When her brother got into a motorcycle accident, Isabel observed a number of surgeons and noted how important it was for them to speak to her in a clear and compassionate manner. She wants to be the type of doctor that puts patients and their families at ease.
As a student at Summit, Isabel looked to her mentor, Ms. Ching, to help her understand how her passion for helping others could be realized through a career in medicine. Ms. Ching educated Isabel about Native American culture, involving her students in the Stanford Powwow and telling them about the Gathering of Nations. When Isabel learned about the limited access to healthcare experienced on reservations, she began to see a way she could make a difference – by bringing high-quality health services and doctors to Native American communities throughout the country.
"Without Ms. Ching, I wouldn't have had any idea what I wanted to do with my life after high school. She made me see my strengths and weaknesses. She encouraged me to keep going after my dreams, even when I had to take a few detours along the way. It was a great thing to walk into school knowing you have your own personal cheerleader in the halls," Isabel said.
Isabel remembers one day Ms. Ching sat her down and told her, "'You're good at science, but you have the skills to be great at science. You just have to apply yourself." From that day on, Isabel started dedicating herself to school. She never looked back.
For her final project her junior year, Isabel studied racial bias and how that affects medical treatment in African American and Native American communities in the United States. The project further underscored her passion for racial equity in medicine. Also while she was at Summit, Isabel went with her classmates to the Dominican Republic where they taught English to students. That same year, they traveled to Suarez where they helped build a community center for local residents.
As Isabel looks to her future, she knows that blending her passion for helping underserved communities and medicine is how she can make the world a better place.
"There is nothing I'd rather do more than help people get the best doctors who really care about their patients, and can show that compassion. I'm thankful I got exposed to so much at Summit so I could really see what kind of future I wanted."