Meet Alma Rosas
Summit Prep Class of 2007
College Readiness Manager at Summit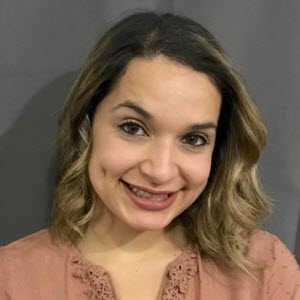 When the first doors opened at Summit Prep, Alma Rosas was there. Alma, a freshman in 2003, felt like she might get lost at a large public high school, opting for the smaller, more personalized learning environment of the brand new Summit Prep. Little did Alma know, she would not only find an education at Summit, she'd also find a career.
Alma, now Summit's college readiness manager, is going on her seventh year working at Summit. Her colleagues were her teachers and mentors, and even friends when she was a student. Jimmy Zuniga, another alum who returned to teach at Summit, is still one of Alma's friends to this day.
Thinking back to her time as a student at Summit, Alma remembers some of the differences between then and now. Without the Summit Learning Platform in 2003, students had to create a personalized learning plan (PLP) on paper, plot out the next steps to achieve their goals, and meet with mentors and parents to discuss progress. While that collaborative environment is still thriving at Summit, now students can access their PLP's all the time, which supports them in staying accountable to their goals.
"Because I was able to set goals for myself throughout high school, I could implement that approach into my college life. I was having a hard time connecting to my campus so I set out to either join a club or get a job. I ended up joining a sorority and getting a tour guide job on campus. This made my college experience unforgettable and it helped me create long term friendships and networks," Alma said.
There was a time, however, when Alma questioned whether she should continue attending Summit. At one point in her freshman year, she thought about leaving Summit so she could experience the traditions of a large public high school.
"I just wanted that high school experience – the football games, the rivalries, the rallies," Alma said. That's when Kelly Garcia, her mentor and now colleague, asked her, "What is your goal?." Without hesitating, Alma said, "college." Kelly responded, "If you stick with me, I'll help you get there." Sure enough, Alma became the first in her family to attend college.
"It was having that person behind me who was experienced in education, knew my history and knew that I could accomplish my dreams that really pushed me to go after what I wanted," Alma said.
Also, Alma and her friends decided to bring the traditions of a large public high school to Summit, creating the dance team and a social committee that organized winter formal, prom, spirit week and other extracurricular activities.
When she graduated from the University of California, Merced in 2011, Alma became the first alum to be hired as faculty at Summit Public Schools. Now, as the college readiness manager, Alma aims to give back to students what her mentor gave to her – confidence that someone is behind you, the whole way. Now Alma tells her students, "I know it's hard. I know exactly what it feels like to be in your shoes, and college might seem like a distant dream. But if you stick with me, I'll help you get there."