Voices of Summit Public Schools: Itzel Ramos Valverde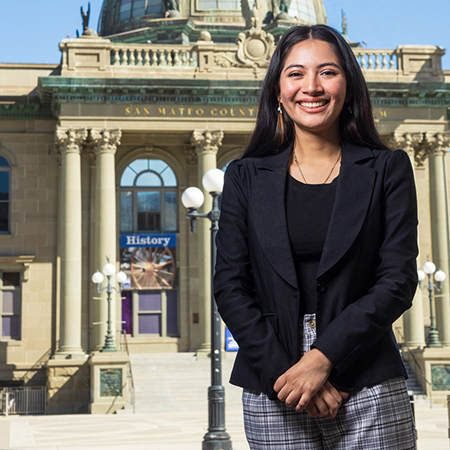 Originally from Sinaloa, Mexico, Itzel Ramos Valverde immigrated to the United States at 8 years old. Before attending Summit Everest, she never imagined college was an option. Now, as she prepares to attend Claremont McKenna College as a QuestBridge Scholar and Sequoia Award recipient, her vision for using higher education as a tool to impact her community is clear.
In her sophomore year at Summit Everest, Itzel took a class called human rights in contemporary U.S. society, and something immediately clicked. "We had a section on immigration and I was able to talk to a lot of other immigrants, as well as hear my parents' story," Itzel said. "That was the moment I realized what I wanted to do. I want to work with public policy or something to do with social justice," Itzel said.
As part of the class, offered through Everest's Expeditions program, Itzel interviewed her peers about their backgrounds. She was surprised to learn many had a similar experience to her own. "I realized how important it is to fight for others. Before that I never really shared my immigration status but I became a lot more comfortable," Itzel said. "My passion in activism and volunteerism is also something rooted in the human rights class."
Itzel quickly moved her inspiration into action, founding the Human Rights Club at Everest. Together, students in the club review the Universal Declaration of Human Rights and work to protect various freedoms for people living in the United States. "For example, we've tried to focus on immigration and how to protect yourself against ICE," Itzel said. "We've also had a project where we collected donations to take to local homeless shelters."
Itzel's drive to make change in her community has continued to grow outside of school. "I started volunteering at Project Read sophomore year and am still volunteering there today. I have drop-in hours for students–it's meant to decrease illiteracy in underserved communities," Itzel said. "I'm really passionate about educational equity."
Her dedication to supporting students has been unwavering. In addition to Project Read, Itzel has volunteered with the Healthy Living Ambassadors Program teaching young students about health and gardening, and at the YMCA's Camp Campbell supporting youth in confidence building.
With firsthand experience navigating the college application process, Itzel recognizes the importance of demystifying scholarships for students who share her first-generation, low-income, or immigrant status.
"The teachers, administrators, and my mentor Mr. Anderson helped me a lot," Itzel said. "If it wasn't for our principal sharing an email about the [QuestBridge and Sequoia] scholarships, I would have never known about it. Those shared resources show Summit's commitment to all students in regards to helping them have options after high school."
Demonstrating her own commitment to all students, Itzel has contributed content to First-Gen Support, a student-run information hub. Through this digital platform, she has been able to use the knowledge she's gained from Everest's one-to-one mentorship and community of support to break down barriers for students like herself to access higher education.
At Claremont McKenna College, Itzel plans to double major in public policy and biology with the goal of creating a positive impact in either the education or healthcare field.
As a soon-to-be Summit graduate, Itzel has a piece of advice for future seniors. "Don't be afraid to reach out and ask for help. Your mentors and administrators are there for you."
Summit Everest is a free, public high school in Redwood City, California. As part of Summit Public Schools, a leading public school system, Everest prepares a diverse student population for success in a four-year college and to be thoughtful, contributing members of society. Summit Everest students build habits and life skills with project-based learning by collaborating on real-world challenges. Learn more or enroll your student.