One Hundred Percent of Seniors at Summit Public Schools are Graduating College Ready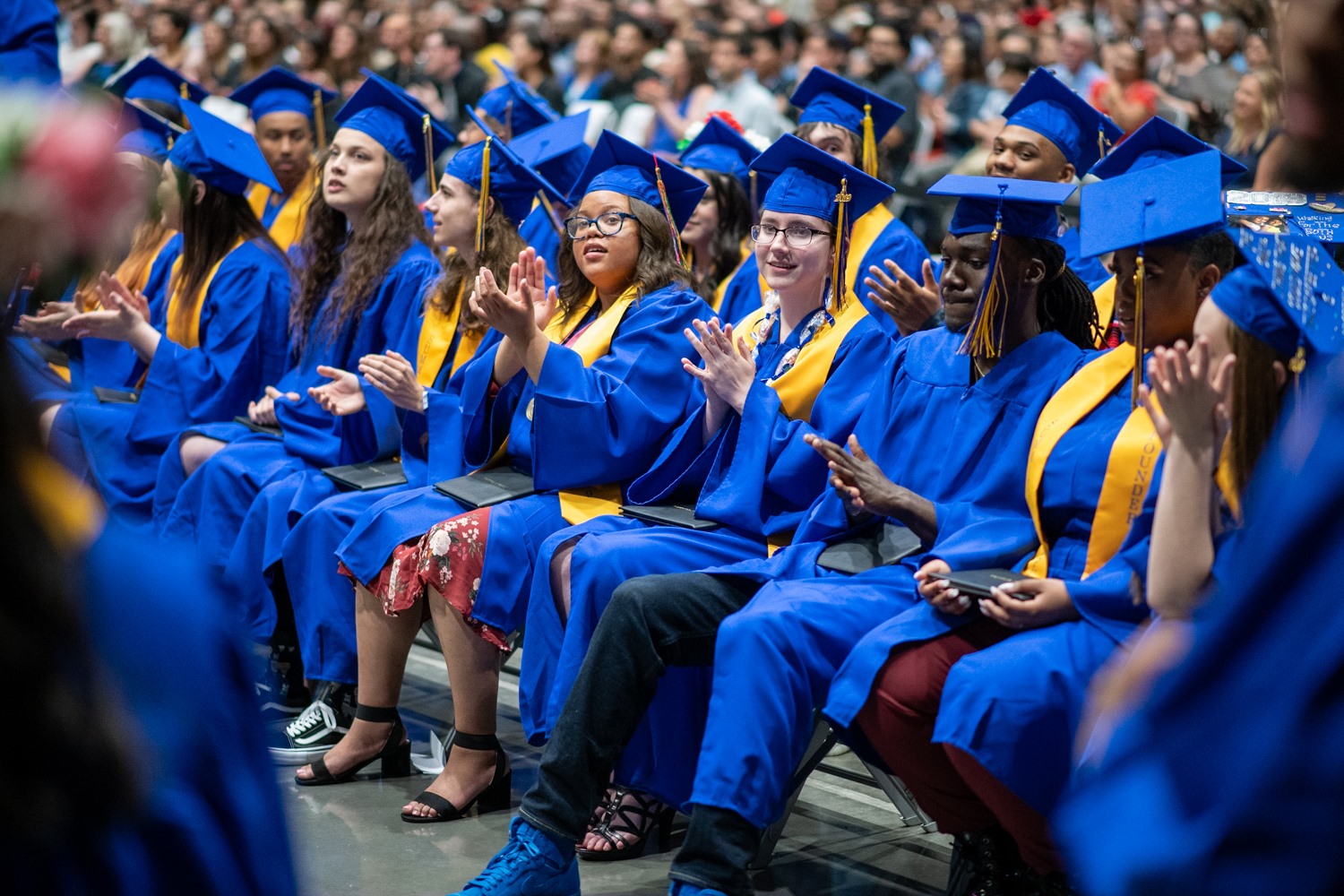 Every student graduating from Summit's seven high schools are graduating college ready. Summit Public Schools has prepared every graduating student, since its first graduating class in 2007 to this year's graduates, for college.
In California, high school graduates are considered college ready if they have completed a collection of courses as designated by the University of California and California State College System. In the state of California, only one of every two high school graduates meets this requirement.
In Summit's two Washington schools–Summit Sierra and Summit Olympus— college readiness is defined by completing 24 class credits, achieving mastery on 36 cross-disciplinary cognitive skills an completing a college knowledge course.  These students are the first charter school graduates in Washington state history.
"At Summit, we believe that every student should be equipped to lead a fulfilled life. Nowhere is the opportunity for a fulfilled life more pronounced than in college and career readiness," said Summit Public Schools Superintendent Anson Jackson. "By preparing our students not only academically but to know themselves, we have empowered them to choose a fulfilled and purposeful life. We're eager to see how our students will impact and improve our communities."
Noah Matisse, a Summit Sierra graduate from Seattle, will attend Western Washington University in the fall.  Matisse recently spoke at Ignite Education Lab 2019 where he shared about his experience as a student at Seattle's first charter high school.
"In my four years at Summit Sierra, I developed an ability to lead conversations regarding social identity and how it impacts lives," said Matisse. "Before my freshman year, I wasn't too confident in speaking up and raising awareness about social equality. However, Summit reminded me of my potential, which led me to help make change."
Summit Shasta senior Sabrina Dilig will attend Boston University on a full scholarship through the Posse Foundation, which is awarded to students with extraordinary academic and leadership potential. She plans to study engineering after serving as a teaching assistant for integrated science at Summit Shasta and volunteering at California Academy of Sciences.
Summit's innovative project-based learning model allows students to engage in deeper learning and infuse their interests into their education, helping them to develop the habits and skills that lead to academic and personal success, including college acceptance. This year, Summit seniors have been accepted to some of the most prestigious institutions of higher learning in the country, including Duke University, Boston University, University of California, Los Angeles and University of California, Berkeley.
Summit Public Schools were recently ranked among the best in the nation by U.S. News & World Report. This month, it celebrates about 500 graduates from seven schools across two states. Summit alumni are twice as likely to complete college as their peers.
1:15