Marlene Knuedler
Biology at Summit Prep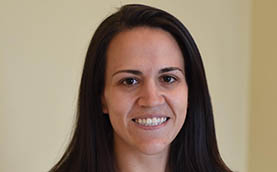 Tell me about yourself and why do you teach.
I never wanted to be a teacher. I didn't go to college thinking I would teach. I wanted to go to medical school. I started doing a peer health exchange in Oakland Public Schools and realized my junior year of college that I wanted to teach. I'm the first in my family to go to college. Thinking back on my college and high school experience, I realize I didn't know how to effectively study. I got to college and my classmates knew what 'office hours' were. Because I came from a rural high school, I figured out college stuff on my own. It didn't feel fair that because of your family's income, you're not given the same education that students who attended private schools received.
So I got really interested in education, particularly, urban education. As a student teacher, I taught at two Title One schools, which have high percentages of children from low-income families. My dad is from Mexico and didn't attend school beyond the 3rd grade. I hear the students talking. When someone says they "don't know something" or "never heard of that," it resonates with me personally. When I got to college, I realized how much I didn't know. I love teaching biology and the sciences in general, but beyond that what matters most to me is my students being successful in college, making sure they are equipped for college-level studies. I believe it's more important to know what skill you used to get to that place. When I see kids lacking those skills, we call them out and address them.
What makes teaching at Summit different from other teaching experiences?
It has been a mindshift to teach at Summit. It pushes teachers to focus on what's important to them. When I came here it made me reflect on what I value. It made me think about and refine my pedagogy. Summit gives me the opportunity to really personalize my own learning. It has really pushed me as a teacher to think.
Summit pushes you and pushes you and gives you crucial pieces of info and support. It's not something you can visualize. You have to spend a day here to see what a teacher does during their prep. Summit provides a lot of freedom and time to do activities.
What has been your best moment as a teacher?
There isn't just one. My weekly office hours have become a time for students who are curious about science to just come talk about science. I give out snacks so they just come. A couple weeks ago we lit sugar on fire just to see what happens. It's a time to just cultivate relationships.
Talk to us about your mentor group. How has mentoring changed your teaching experience?
My mentor group is crazy and entirely made up of freshman – I had a similar experience so I understand the importance of spending four years together. It pushes me because of the vulnerability aspect of having a mentor group. It's challenging because you're asked to share an emotion or feeling, but I appreciate it because we're thinking about where we are as a mentor group. I push the kids to actually listen to their peers. I'm excited that we keep our group for the second year so we can build upon this past year. I see them as my kids – they're all my kids – but especially my mentor group.
How does Summit support you as a whole person?
Summit values me as a whole person. I didn't feel my work/life balance was valued in a previous experience. It is what you make it if you take advantage of what is here. There's so much support from the home office, curriculum managers, the take what you need policy [for time off]. It doesn't make you feel like you have a countdown or anxiety about taking a day. I've never been at a school where I felt like I could take a day off. The administration here is really supportive of the flexibility. It's about being a team and you do it because you support each other. I love the team and cohesive environment. We support each other in ways that are really valuable [and] open. Professional development helps the teacher in a way that's not busy-work; it is really targeted and personalized.
What parts of your identity have been most salient to you as a teacher? How have these pieces of yourself helped you to connect further with your students?
I ask the kids a lot of questions about themselves. I know when it's their birthday. I try to make them feel cared about. Because my dad is from Mexico and I was the first in my family to go to college, they can ask me questions and they don't feel dumb. I didn't ask my teachers for help like revising papers. By showing different pieces of myself, like how I didn't know someone like me when I was a student, they can come ask questions that they don't know. They are more likely to seek answers from someone who doesn't always know everything.
What's been your biggest challenge as a teacher?
My biggest challenge has been re-thinking what teaching is or what the job of a teacher is. Summit has made me consider what I really value in terms of pedagogy. What's important at the end of the classblock? What do they leave with? Is it memorization or is it a skill? Is it feeling valued, heard, successful? Seeing and being with my freshman all day and only seeing one grade has been challenging but fun.
What would you tell a potential teacher interested in Summit?
Do it. When I was applying to Summit and thinking about accepting the job it was hard to imagine. The Platform seemed super overwhelming at first, but especially for veteran teachers it pushes you in your practice. It doesn't allow you to become complacent in your practice. It made me become a better teacher because I work at Summit. It makes you want to be your best.