Program Benefits
As a Summit Learning Teacher Resident, you'll participate in a credentialing program that is embedded in a school site, creating a deep integration and alignment between your experience in the credentialing program and your experience in the classroom as a practicing teacher candidate.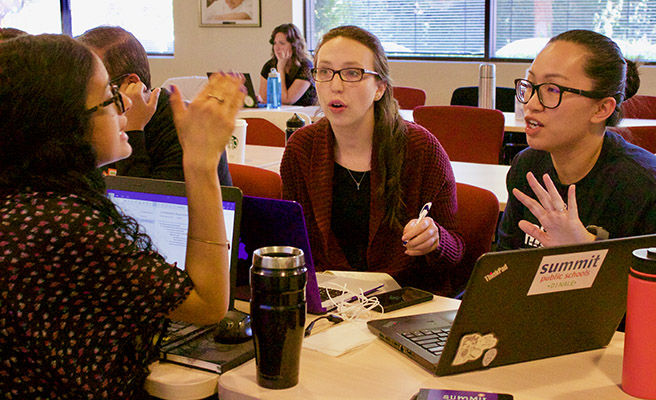 During the program, Residents:
Develop the skills, habits, and tools needed to personalize learning for every student and to build effective relationships,
Receive a student teaching placement that is deeply integrated in a Summit Public School for four full days each week for the length of the academic year,
Engage in consistent, individualized coaching and support from an experienced Summit Learning teacher and a Residency Program faculty member,
Are empowered as self-directed adult learners with a personalized trajectory and timeline through the program, and
Are active and important members of a professional learning community, working with the teachers, administrators, mentors, students, and families to implement, reflect upon and continuously improve upon personalized learning goals of the school community.
Professional Development and Support
Each Resident has a team of individuals to provide them with support, guidance and development throughout their residency year.
Cooperating Teacher: Each Resident is matched with a Cooperating Teacher who teaches the same content area as the Resident and serves as a model for high quality personalized instruction. Four days per week, Residents work alongside their Cooperating Teacher by co-teaching, co-planning, and co-assessing. In the spring semester, Residents will also complete independent student teaching under the guidance of the Cooperating Teacher.
Mentor: Each Resident is supported by a mentor from the Summit Learning Teacher Residency Faculty who offers guidance and coaching through regular check-ins, observations and feedback. Mentors help foster the important connection between a Resident's coursework and practice in the classroom. They also assess coursework including projects and playlists and support Residents in completing necessary requirements for the credentialing process.
Resident Learning Experiences: All Residents will come together in the summer, prior to the start of the school year, to learn foundational elements of personalized learning, build community as a cohort, and prepare for the year ahead. In addition, every Friday all Residents and mentors join together for professional development, to engage in coursework and projects, and to offer peer-to-peer support. These experiences are facilitated by Summit Learning Teacher Residency mentors.
Financial Overview
The Summit Learning Teacher Residency provides an affordable and supportive path to a rewarding and successful teaching career. As a Summit Learning teacher Resident, you will receive:
A Preliminary Teaching Credential
The option to apply your coursework towards a Master's of Arts in Teaching (in progress, more information about this option will be available soon)
A living stipend disbursed during your residency year
Access to scholarships
Visit our California Program Information page to view details about tuition, living stipends, and other program finances.